Ohio Aviation History
Some historical facts of Ohio's contributions to the Aviation Industry after the technology leap by the Wright Brothers.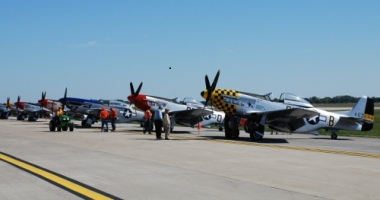 Safety through knowledge!
Our Next Event: 2021
2020 Central Ohio Golf Outing
2021 Ohio Aviation Maintenance Symposium
CANCELLED DUE
TO COVID 19!
Statement from President
Joe Lippert may be found
on home page.

Current News: 2021
This is a collection of aviation related videos and web links for your enjoyment.
Recent Events 2021
COPAMA Board Meeting
October 21, 2020
Nationwide Hangar

Central Ohio Aviation Golf Outing
Friday September 6th, 2019
Willow Run Golf Course
ST Route 310 and 161,
Pataskala, Ohio 43062
2019 Ohio Aviation Maintenance Symposium
March 14th, 2019
Columbus State Conference Center,
315 Cleveland Avenue,
Columbus, OH 43215


The Aviation History of Ohio
Beginning in a Bicycle Shop in Dayton.
With the passing of House Resolution 444 in 2008 to create a National AMT Day, I thought it might be interesting to explore the world of aviation in our great State. Ohio became a State on February 19, 1803 and 100 years later, the Wright Brothers, with the help of Charles Taylor and a few others, created the first heavier-than-air, powered aircraft to make a sustained, controlled flight with a pilot aboard. The rest is aviation history which will be 104 years old this December. Since that first flight on the sand dunes of Kitty Hawk, Ohio's Sons and Daughters have been at the forefront of Aviation. Their contributions span all aspects of military and civilian aviation and Space exploration.
OHIO'S LINK TO SPACE
A while back, we left you with the question "How many astronauts are Ohio natives?". The answer is 25 with many familiar names like John Glenn, Neil Armstrong and the late Judy Resnik from the Challenger crew. NASA has provided a webpage that lists all their names, their profiles and has a downloadable poster of all their images. Along with the 25 native astronauts, the site includes those who are/were affiliated with Ohio, either working or now residing in our State. Please check out the information at the NASA website at
Ohio Astronauts and Ohio Astronaut Info Graphic
OCTOBER 2007 GATHERING OF MUSTANGS AND LEGENDS
With the close of the Gathering of Mustangs and Legends Airshow, it's time to explore some of the local history of the airport that hosted the event. The Columbus Regional Airport Authority (CRAA) created a history page for the airport we now know as Rickenbacker International Airport (KLCK). With it origin as Lockbourne Army Air Base, a B17 and Glider training base in 1942, the airport has transitioned through active Air Force Base, Air National Guard Base, and now the International Airport and Free Trade Zone. Originally named for the nearby village of Lockbourne, Ohio it was renamed in 1974 after World War 1 Ace and hometown hero, Eddie Rickenbacker.
Please visit the CRAA website to learn more about the airport's rich history, The Tuskegee Airmen, The 121st Refueling Wing, the men and women that still serve our country there and it's contribution to today's Central Ohio economy.
PORT COLUMBUS AND THE COLUMBUS REGIONAL PORT AUTHORITY
This month, let's look at the history of our main airport, Port Columbus International Airport (KCMH). With it's opening in 1929, it has evolved into the main air transportation facility, providing FAA Air Traffic Control terminal radar coverage, US Postal Service Airmail and a host of other aviation related services to Central Ohio. Please go to the CRAA CMH history page for information on the airports path of development. Wikipedia also has a page about Port Columbus and expands on the history of the airport. We'll leave you this month with the following question: Do you know where the airports identifier CMH came from? Answer!
DON SCOTT FIELD - OHIO STATE UNIVERSITY AIRPORT
One of our airports rich in history and is ranked among the top airports in the country. The Ohio State University Airport, also know as Don Scott Field (KOSU), has ties back to World War I when aviation was in it's infancy. Read about it's history as a portal to Central Ohio providing education, transportation and commerce. It is the home of OSU's flight and aviation training facilities, the Ohio's Department of Aviation including the Ohio Departments of Transportation, Natural Resources and Highway Patrol, Beightler Armory, MedFlight and private and corporate aircraft. The airports website also provides links to information on the many flying and service organizations that use the facility and call it their home!
OHIO'S TIES TO BOEING
The past is full of historic contributions that Ohio has made in advancing the Aviation Industry. Today, some of those same manufacturers and corporations are making history by being part of Boeings 787 Dreamliner. The publisher AviationToday.com recently posted the following article about those Aerospace Companies and their part of getting this next generation vehicle from Boeing off the ground. Please Click Here to follow that link.
EXPLORER I
The exploration of space by the United States started over 50 years ago on January 31st, 1958. Explorer I was 80 inches long with a diameter of 6.25 inches and our first successful satellite launched into orbit. Visit this Link on ZDNet to read about the event and view some of the photos they have from that era.
ODOT AND OHIO STATE HIGHWAY PATROL AVIATION
The Ohio State Highway Patrol celebrated its 75th anniversary in 2008 which included many years of aviation history. The Central Ohio OSHP Aviation group comprised of both helicopter and fixed wing aircraft is based with the other Ohio Department of Transportation aircraft at OSU Airport. Please Click Here for an extract on their past contribution to aviation and additional links to the Highway Patrol website. Congratulations and Thank You OSHP for your service and protection over the years!
50 YEARS OF NASA
NASA celebrated 50 years of aeronautics and space flight excellence in 2008. A number of activities and special events were conducted throughout the year at the Center and Agency levels leading up to NASA's 50th Anniversary on October 1, 2008. For details about those events at Lewis Field and Plum Brook Station, please visit the GRC 50th Anniversary Web site at: NASA 50th Anniversary Page
This page was last updated on 06/03/21.